Barite is an important nonmetallic mineral resource with high density, good filling, insoluble in water and acid, non-toxic, absorbing radiation, chemical properties and thermodynamic properties. Barite can be used for chemical, electronics, building materials, metallurgy, textile, medicine and so on more than 10 industries.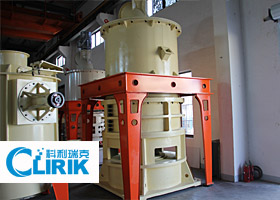 Micronizer machine is CLIRIK developed over the years. The production fineness can be freely adjustable between 400-600 meshes. In terms of energy savings, more environmentally friendly, energy saving. The use of semi-automatic control of a unique process, a substantial increase in production efficiency, is the current low energy consumption of a fine grinding equipment.

CLIRIK 600 mesh micronizer machine is a non-metallic mineral milling production line of common equipment for metallurgy, building materials, chemicals, electricity and other industries to provide high-quality powder raw materials, by many domestic and foreign customers of all ages.