HGM micronizer mill ,which is designed by Shanghai Clirik Machinery Co.,Ltd, is popular in the mineral grinding market. One of the reasons is that it can reduce the grinding pressure very well, thus prolonging the life of wearing parts.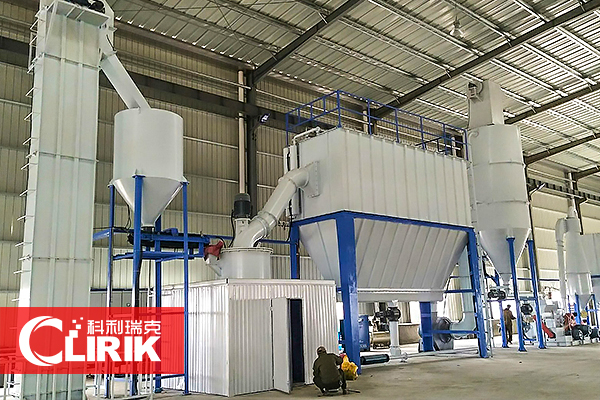 Shanghai Clirik Machinery Company is dedicated to the development of micronizer mill machinery in the powder industry for more than a decade. There are many loyal customers and considerable sales in the market. The high-quality micronizer mill offers customers high-efficiency, high-yield, high-yield production and is the best choice for many processing ore companies.
Working principle of HGM micronizer mill
When the HGM micronizer mill is produced, the bulk material is crushed by the jaw crusher to a particle size of about 1 cm, and then the material is sent to the storage hopper by the hoist, and then the material is uniformly and quantitatively fed through the electromagnetic vibrating feeder. Grinding is performed in the main machine grinding chamber. The material after grinding is sent to the classifier by the fan airflow for classification. Under the action of the impeller of the classifier, the materials that do not meet the fineness requirements fall into the grinding chamber and are re-grinded. The materials that meet the fineness requirements are flowed through the pipeline. Enter the cyclone powder collector, separate and collect, and discharge through the discharge device to obtain the finished powder.
Excellent dust removal design
If the material to be ground contains a certain amount of water, the heat generated during grinding, the gas in the grinding chamber evaporates and expands to change the gas flow of the system, and the sealing problem of the inlet and the joint of each pipe, the outside air The entry causes the airflow in the system to be out of balance. For this reason, the micronizer mill introduces excess gas into the baghouse through the exhaust pipe valve disposed at the fan outlet, and purifies it and discharges it while adjusting the system airflow balance. Achieve environmentally friendly production.
Wearing parts material
For the processing of wearing parts such as grinding rolls and grinding rings, Shanghai Clirik Machinery Company uses high-quality materials and design principles. In the work, the micronizer mill's grinding roller does not touch the grinding disc, which has less wear and long service life. The grinding roller can be turned out to the outside of the casing for maintenance, and the replacement of the roller sleeve and the lining plate is convenient and quick, and the downtime loss is reduced. The grinding roller is lubricated by a separate lubrication station, and the single grinding roller circuit adopts a dual pump-pumping mode of simultaneous operation, so that the grinding roller bearing is fully lubricated and cooled, and the leakage of the oil in the bearing housing of the grinding roller can be avoided.
More about HGM micronizer mill, you can find on our website or contact us directly . HOTLINE: 008618001642498