The birth of the micronizer machine(Ultrafine Mill) for many mines, building, water conservancy, ceramic, metallurgy, coal mine and so on many industries have brought great progress. We all know that micronizer machine has easy operation, economy applicable advantages. So, what are the specific aspects? Shanghai CLIRIK introduced one by one to you.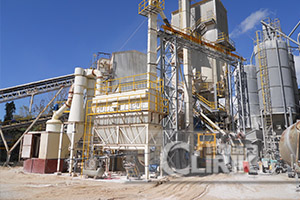 1. High yield and low consumption
At the same discharge under the standard of fineness and motor power, HGM series micronizer machine is higher than the yield of airflow mill and ball mill by more than 40%, also its system loss is only about 30% of the airflow pulverizer.
2. High finished product fineness, particle size small.
The requirements of the finished product granularity can reach 300-3000 mesh sizes, and can accord to the actual need to adjust. Fineness of the finished product size can achieve D97 5 um or less disposable.
3. The body is not easy to loose.
Because the micronizer machine in the grinding chamber is not set the rolling bearing and screw, so al no bearing and its seal damage problems, also won't because of screw loosening the fuselage damage problem.
4. Energy conservation and environmental protection
Device with pulse dust catcher and the existence of the muffler, it is reasonable to reduce the dust pollution and noise, meet the national environmental protection standard.