Shanghai Clirik Machinery Co.,Ltd was authorized by ISO 90001:2008 quality.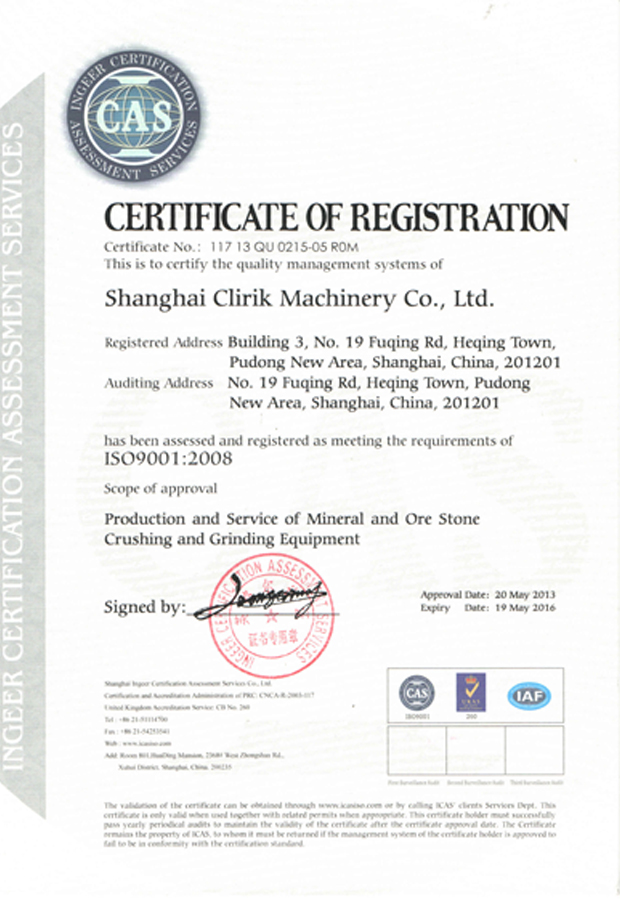 In order to get this Certefication, Clirik have made years of efforts with staffs. Clirik begin from Customer Demand; end with Customer Satisfation. HIgh quality of after-sales service symbolizes our brand and our qbillity. We pursue not only the good quality of our products, but also the good after sales services. Your satisfaction with us is our final purpose.
Shanghai Clirik Machinery Co.,Ltd is specializing in producing stone grinding machine which is the equipment for professional producing fine and superfine powder of non-inflammable, non-explosive and brittle materials with Moh's hardness under six, the moisture under 5% such as calcite, chalk, limestone, dolomite, kaolin, bentonite, talc, mica, magesite, illite, pyrophyllite and vermiculite, sepiolite, attapullgitem rectoritem diatomite, barite, gypsum, alunite, graphitem fluorite, rock phosphate, Kalium ore, pumice, etc., totally more than 100 kinds of materials.