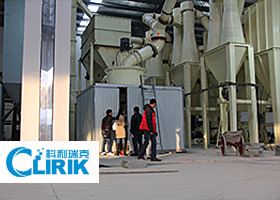 Clirik grinding mill equipments have a good reputation in India. As everyone known as, there is wide carbon black powder market in India and all over the world. Clirik carbon black grinding mill have strong competitiveness because of its advanced manufacturing process and technogies.
Technical advantages of carbon black grinding mill:
1. The carbon black grinding mill of HGM series is high efficient (twice as much as jet mill, mixing grinder and ball mill)
2. The spare parts of carbon black grinding mill can serve much longer time (2-3 times longer than that of impact mill or turbo mill.
3. High safety and reliability of the carbon black grinding mill (no rolling bearings and screws in the grinding cavity, so no problems caused by the wear of bearings or screws)
4. The HGM grinding mills are characterized by high fineness (final size: 325-3000 mesh, D97<5 micron)
5. Environment-friendly
Shanghai clirik machinery co., LTD.
Phone: 4008-168-355; 0086-21-20236178
Contact person: Ammy
Email: Ammy@clirik.com
Address: No.19 Fuqing Rd, Pudong New Area, Shanghai201201, China.